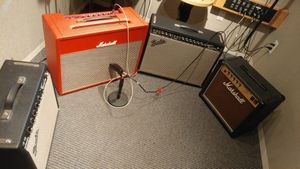 48 Windows Music and Mix 
48 Windows Music And Mix, Santa Monica. A fantastic studio with great sound and fine, talented people. Eric Garcia and I have worked together since "the early days" and up through the latest release. 
LA Studios / Margarita Mix 
The multi-talented Jeff Levy tracks, mixes and does sound design at the tastefully appointed Margarita Mix de Santa Monica. 
Alley One Music 
The website for Michael Lindner and his Alley One Studio, in Healdsburg, California, where each recording session comes with a complimentary wine tasting ... 
Mark Goldenberg 
There is nothing that Mark cannot do with six strings and a Fender Princeton. The secret weapon of dozens of world-class touring bands (and occasionally) The Disorderly House Band. Mark plays some beautiful guitar on my latest collection, Ten And Two.
Seth Davis 
The NY songwriting genius, friend to small animals and children, and a good friend to me. Also can make an incredible kale salad. 
Christopher Lods  
Talented Artist, Songwriter, Musician, guitarist and all around very-nice-person!  
Chris did the art and design for the Ten And Two album cover.
Oliver Jacobson 
A wonderful musician and violinist, who also does general good in the world through his practice of music therapy. But then again, isn't all music ... therapy? 
Steve Fredericks 
Steve Fredericks is my songwriting partner from As-Is as well as my very close friend and easily one of the best singers I have ever known. 
Guido Mannello 
The myspace page for Guido Mannello, the dazzlingly good pianist I have the pleasure to work with "When In Rome".